Featured video
Petzl Absorbica - Fall arrest lanyards
Petzl Double Absorbica Y Rope Lanyard 80cm
Petzl Double Absorbica Y (Rope) Lanyard 80cm
The Petzl Absorbica-Y 80 is a double rope lanyard with integrated energy absorber for fall arrest. It is 80cm in length and designed for users between 50 and 130 kg. Certified to European and Russian standards.
(Needs three connectors sold separately)
Fast Delivery
Deliveries
We pride ourselves on our rapid service and aim to despatch all orders promptly. The majority of orders placed before 3pm Monday to Friday are sent out the same day as the order is received and delivered the next working day - See below for information on timed and weekend deliveries (This is dependent on stock availability, we will contact you on the rare occasion something is out of stock). Orders to the Highlands, Islands and Out of Area may be a two day delivery and overseas will be longer. For time-critical orders we advise calling us so we can process the order as a matter of urgency and confirm the delivery schedule. We cannot be held liable for any consequential loss caused by late delivery, or failure to deliver.
Please note that orders placed after close of business Monday to Thursday will be processed the next day. Orders placed after close of business on a Friday or at a weekend will be processed on the Monday.
If you opt for courier delivery you will receive an email or text on the day we dispatch your order informing you that it is enroute, and a further email or text on the morning of the day of delivery, giving you a 1 hour window when your delivery will arrive.
Please allow slightly longer for the busier periods at Christmas and during the sales. All goods are subject to availability and in the event we are unable to supply your goods within thirty days you will be informed immediately and advised of the expected delivery date. Outstanding orders / items can be cancelled at any time. In instances where payment has already been made, an alternative or refund in full for the item(s) concerned will be given.
*Free delivery offers are limited to mainland UK and do not generally include the Highlands, Islands etc.
Timed deliveries / Saturday & Sunday deliveries We are able to arrange timed deliveries (pre-1030am / pre-12) and deliveries at weekends (Saturday pre-1030am / pre-12 and Sunday anytime). Some of the timed delivery options are available via the website, for others including a Sunday delivery, please call the office for a confirmed price and to arrange the alternate delivery. Important Note: Timed deliveries are subject to stock availability (we will contact you if any of your order is not in stock so you can confirm if you would like us to split the delivery) and must be placed by 3pm Monday to Friday (after 3pm please call us as you may still be able to catch our couriers).
Low delivery charge guarantee If you get to the basket stage of the order process and feel that our delivery charge is too high, then simply contact us and we will look to reduce this, possibly by opting for a slower delivery service (normal deliveries are next day - except for the highlands, islands etc)
Description
Petzl Double Absorbica Y (Rope) Lanyard 80cm
The Petzl Absorbica Y 80 is a rope double lanyard with integrated compact energy absorber, for continuous protection when passing intermediate anchors. It is 80 cm in length, not including connectors. It can accept different types of connectors on the lanyard end and is certified to European and Russian standards.
The Absorbica Y 80 lanyard with its two rope arms allow for continuous protection when passing an intermediate anchor, by allowing the user to successively detach and re-attach the two arms as they move.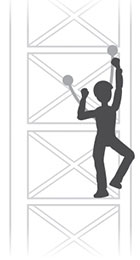 The Petzl Absorbica-Y 80 lanyard is used when there is a fall hazard. The lanyard is connected to the sternal or dorsal fall arrest attachment point on the harness (connector sold separately). The integrated absorber provides energy absorption in a fall, thus limiting the impact force on the user. In the case of a fall, the tearing of the energy absorber webbing limits the impact force felt by the user. The progressive tearing of the webbing reduces the deceleration on lightweight users. The Absorbica-Y 80 is designed for users who weigh between 50 and 130 kg.
The energy absorbing component is very compact to avoid hindering the user's movements or interfere with handling. A durable fabric pouch helps protect the energy absorber from abrasion and potential contaminants.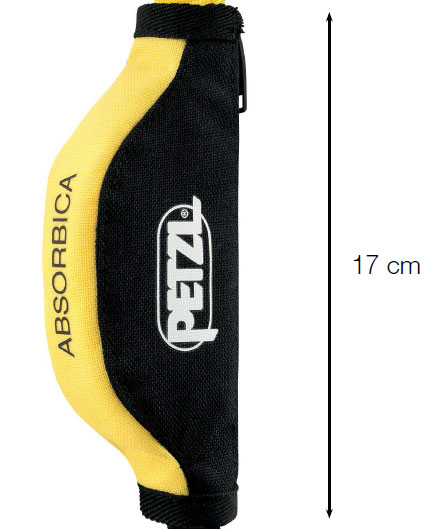 Also available with integrated MGO hooks. Please see Petzl ABSORBICA-Y 80 MGO
MPN Code: L64YAM 80
Longer lengths available: 150 cm length with elasticated arms. Please see Petzl ABSORBICA-Y 150
MPN Code: L64YA 150
Longer lengths available with MGO hooks: 150 cm length with elasticated arms and MGO hooks. Please see Petzl ABSORBICA-Y 150 MGO
MPN Code: L64YAM 150
International versions are also available with a captive connector and MGO hooks.
Key Features
Double fall arrest lanyard Rope arms
Designed for continuous protection when passing intermediate anchor points
Absorbs energy in case of a fall:
tearing of the energy absorber webbing limits the impact force on the user works with users who weight between 50 and 130kg. progressive tearing reduces the deceleration on lightweight users.
Minimal bulk: compact energy absorber facilitates handling
Abrasion resistance: durable zippered fabric pouch protects the energy absorber from abrasion or contaminants while allowing for regular inspection of the absorber lanyard and pouch reduce the risk of cuts and potential severing over edges.
Two options for installation on the harness, depending on use: frequent connection/disconnection: with a carabiner held in correct position by the STRING (included with the lanyard)
semi-permanent connection: with a RING OPEN, whose circular shape ensures optimal positioning.
Two connector options for the end of the lanyard: a locking karabiner, or MGO OPEN connector with large gate opening
CE marked
Meets EN 355: PPE against falls from a height- Work positioning systems
Meets EN 354: PPE against falls from a height- Lanyards
Meets EAC
Needs three additional connectors
Technical Information
Maximum authorized length (with connectors): 130cm
Maximum length of torn lanyard after fall: 210cm
Maximum clearance (for fall factor 2): 440cm
Manufacturer's Downloads
Specification
Lanyard
| | |
| --- | --- |
| Lanyard Type | |
| Energy Absorbing | |
| Size | |
| End Termination | |
| Fixed Arm Length(cm) | |
| Working Load Limit (kg) | |
General
Industrial or Sport Use

Material

Nylon

,

Polyester

,

Polyethelene

,

Conformity

Weight (g)
Related video
Petzl Absorbica - Fall arrest lanyards