Beal Air Leash Tool Lanyard
Beal Air Leash Tool Lanyard
Beal Air Leash Tool Lanyard, extendable gear leash which allows tools to remain attached whilst in use.
Fast Delivery
Deliveries
Coronavirus latest (dated 01 May 2020): We are still open for business! Please click here for our full statement on our operations.

We pride ourselves on our rapid service and aim to despatch all orders promptly. The majority of orders placed before 3pm Monday to Friday are sent out the same day as the order is received and delivered the next working day - See below for information on timed and weekend deliveries (This is dependent on stock availability, we will contact you on the rare occasion something is out of stock). Orders to the Highlands, Islands and Out of Area may be a two day delivery and overseas will be longer. For time-critical orders we advise calling us so we can process the order as a matter of urgency and confirm the delivery schedule. We cannot be held liable for any consequential loss caused by late delivery, or failure to deliver.
Please note that orders placed after close of business Monday to Thursday will be processed the next day. Orders placed after close of business on a Friday or at a weekend will be processed on the Monday.
If you opt for courier delivery you will receive an email or text on the day we dispatch your order informing you that it is enroute, and a further email or text on the morning of the day of delivery, giving you a 1 hour window when your delivery will arrive.
Please allow slightly longer for the busier periods at Christmas and during the sales. All goods are subject to availability and in the event we are unable to supply your goods within thirty days you will be informed immediately and advised of the expected delivery date. Outstanding orders / items can be cancelled at any time. In instances where payment has already been made, an alternative or refund in full for the item(s) concerned will be given.
*Free delivery offers are limited to mainland UK and do not generally include the Highlands, Islands etc.
Timed deliveries / Saturday & Sunday deliveries We are able to arrange timed deliveries (pre-1030am / pre-12) and deliveries at weekends (Saturday pre-1030am / pre-12 and Sunday anytime). Some of the timed delivery options are available via the website, for others including a Sunday delivery, please call the office for a confirmed price and to arrange the alternate delivery. Important Note: Timed deliveries are subject to stock availability (we will contact you if any of your order is not in stock so you can confirm if you would like us to split the delivery) and must be placed by 3pm Monday to Friday (after 3pm please call us as you may still be able to catch our couriers).
Low delivery charge guarantee If you get to the basket stage of the order process and feel that our delivery charge is too high, then simply contact us and we will look to reduce this, possibly by opting for a slower delivery service (normal deliveries are next day - except for the highlands, islands etc)
Description
Beal Air Leash Tool Lanyard
Elasticated Spiral Cord type expanding tool lanyard used to prevent tools and equipment falling from height and causing injury.
Consists of 2 parts:
An extendable spiral cord (up to 300%) that attaches using a mini karabiner.
A removable tool attachment loop which connects to the spiral cord.
The attachment loop is designed to connect to tools using a lark's head knot or clinching using the plastic cordlock. (suitable tools should be used).
A ring allows the tool to be clipped to a connector on the harness between uses.
The removable tool attachment loop is available separately.
All tools that are equipped with the removable tool attachment loop can be attached to the spiral cord when needed.
Minimum length: 45cm - Elongation under 500g: 150cm
Maximum weight of the tool: 500g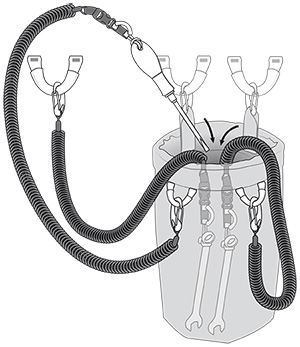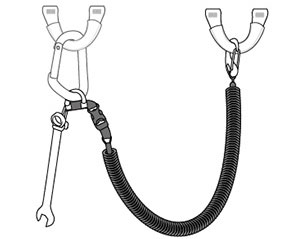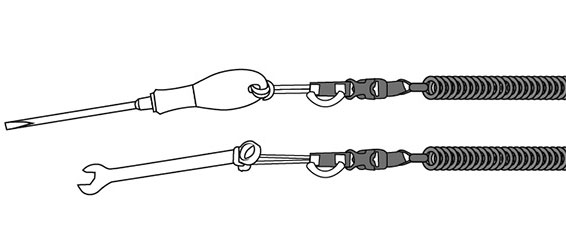 Specification
Lanyard
| | |
| --- | --- |
| Lanyard Type | |
| Energy Absorbing | |
| Working Load Limit (kg) | |
General
| | |
| --- | --- |
| Industrial or Sport Use | |