Featured video
Harken Riggers Winch 500
Harken LokHead Winch
The Harken LokHead winch is a self-tailing man riding capstan winch, with the security and safety of a captive head.
Fast Delivery
Deliveries
Coronavirus latest (dated 01 August 2020): We are still open for business! Please click here for our full statement on our operations.

We pride ourselves on our rapid service and aim to despatch all orders promptly. The majority of orders placed before 3pm Monday to Friday are sent out the same day as the order is received and delivered the next working day - See below for information on timed and weekend deliveries (This is dependent on stock availability, we will contact you on the rare occasion something is out of stock). Orders to the Highlands, Islands and Out of Area may be a two day delivery and overseas will be longer. For time-critical orders we advise calling us so we can process the order as a matter of urgency and confirm the delivery schedule. We cannot be held liable for any consequential loss caused by late delivery, or failure to deliver.
Please note that orders placed after close of business Monday to Thursday will be processed the next day. Orders placed after close of business on a Friday or at a weekend will be processed on the Monday.
If you opt for courier delivery you will receive an email or text on the day we dispatch your order informing you that it is enroute, and a further email or text on the morning of the day of delivery, giving you a 1 hour window when your delivery will arrive.
Please allow slightly longer for the busier periods at Christmas and during the sales. All goods are subject to availability and in the event we are unable to supply your goods within thirty days you will be informed immediately and advised of the expected delivery date. Outstanding orders / items can be cancelled at any time. In instances where payment has already been made, an alternative or refund in full for the item(s) concerned will be given.
*Free delivery offers are limited to mainland UK and do not generally include the Highlands, Islands etc.
Timed deliveries / Saturday & Sunday deliveries We are able to arrange timed deliveries (pre-1030am / pre-12) and deliveries at weekends (Saturday pre-1030am / pre-12 and Sunday anytime). Some of the timed delivery options are available via the website, for others including a Sunday delivery, please call the office for a confirmed price and to arrange the alternate delivery. Important Note: Timed deliveries are subject to stock availability (we will contact you if any of your order is not in stock so you can confirm if you would like us to split the delivery) and must be placed by 3pm Monday to Friday (after 3pm please call us as you may still be able to catch our couriers).
Low delivery charge guarantee If you get to the basket stage of the order process and feel that our delivery charge is too high, then simply contact us and we will look to reduce this, possibly by opting for a slower delivery service (normal deliveries are next day - except for the highlands, islands etc)
Description
Harken LokHead Winch
Non Stock Item maybe subject to an extended lead-time please contact us for urgent orders.
This Harken LokHead man-riding portable capstan winch is designed for confined space retrieval or for use with davit systems using an unlimited length of fibrous rope. The captive head allows the winch to be used safely, and keeps the rope from accidentally releasing.
Simple to use; diverse applications.
The LokHead can be used anywhere a load needs to be lifted and lowered. Rigged to a tripod, it can be used for confined-space rescue, for load moving/hauling, and man-riding.
Maintenance is easy
Clean and grease winches regularly as described in the product manual.
The INLH500KIT LokHead winch kit comes with a robust mounting plate, tripod adapter, winch handle, anchor strop and connector, providing you with everything you need for a tripod set up!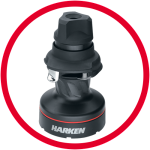 Lightweight
Weighing just 4.2 kg (9.3 lb), the LokHead winch can be incorporated into tripod design without significantly increasing the overall weight.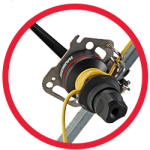 Ergonomic
Easy to rig and efficient, the LokHead makes the most of the operator's strength. The winch offers a 40:1 power ratio with 2 gears: low-load, high line speed; high-load, low line speed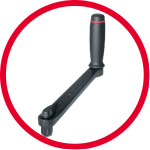 Manual
The winch can be driven manually with the provided 10″ B10AL winch handle.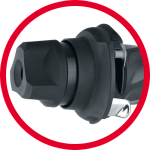 Reliable
The braking system controls descent and provides workers protection against free-falls. The encapsulating jaw cover protects fingers and clothing from catching in the winch.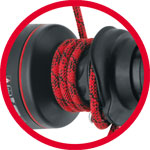 Versatile
The winch is designed for use with fiber rope 10 –12.7 mm (5/16 –1/2″) in diameter and unlimited line length.
FAQ's
Is the LokHead winch certified?
The LokHead is certified to EN13157:2009 (Machinery Directive harmonized standard) for lifting goods and equipment, as well as EN1496:2007 as a rescue lifting device.
Is the LokHead winch suitable for human suspension in rescue operations?
Yes. It conforms to EN1496.
What is the maximum rated load (MRL)?
The maximum rated load (MRL) for the LokHead winch is 500 kg (1102.3 lb) for goods/equipment and 240 kg (529 lb) for rescue equipment.
What is the maximum line operating length?
The LokHead winch is able to pull an infinite length of line. The end of the line does not need to be installed onto the drum.
How do you attach the LokHead to a tripod?
The LokHead winch kit comes with a robust mounting plate, tripod adapter, winch handle, anchor strop and connector, providing you with everything you need for a tripod set up!
What's the difference between the Harken riggers winch 500 and the LockHead Winch?
The riggers winch 500 is a really practical, portable lightweight CE certified portable winch you can strap to whatever is handy and use it to lift things. So, for example, used by utilities companies.
The lokhead has a safety device – a locking head which holds the rope in place and means it can't accidentally slip out of the winch jaws, it's therefore possible to rate it for use for human suspension and use it in rescue scenarios. (EN1496) For example, it is sold to fire services and mountain rescue teams for rescues and confined space retrieval ,
Technical Information
Rope Diameter: 10 – 12.7 mm (5/16 – 1/2 in)
Weight: 4.2 kg (9.3 lbs) – Winch 20 kg (44 Ibs) – Full kit
Max Rated Load: 500 kg (1102.3 lbs) * (240 kg / 529 lbs for rescue equipment)
Warnings and Instructions
Maximum rated load for lifting & pulling load applications: 500 kg / 1102.3 lb
Maximum rated load for human suspension: 280 kg / 617.3 lb (coefficient ratio 10:1 of breaking load); marked in accordance with the Machinery Directive and EN13157.2004 standard.
Manufacturer's Downloads
Specification
Winches & Hoists
| | |
| --- | --- |
| Winch & Hoist Type | |
| Winch / Hoist Cable Type | |
General
| | |
| --- | --- |
| Industrial or Sport Use | |
| Conformity | |