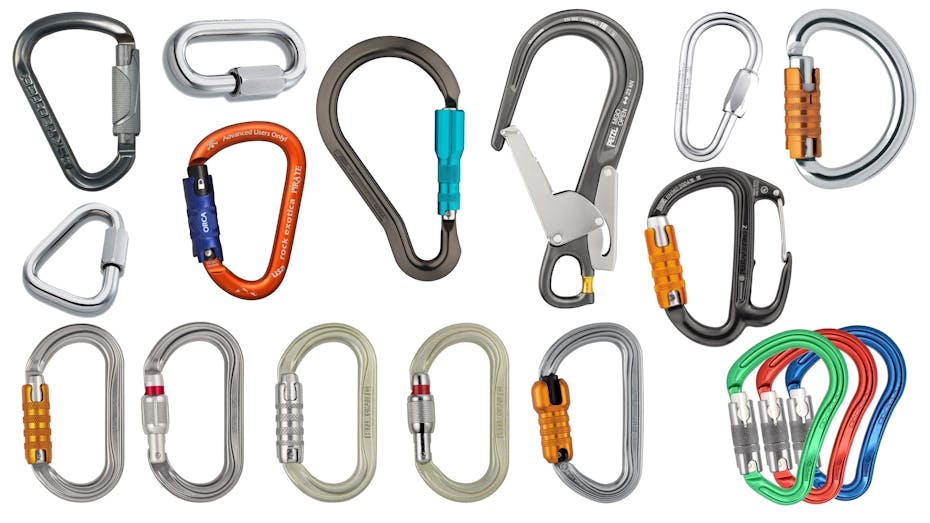 A buying guide for Karabiners & Connectors
The choice of karabiner comes down to its intended use. All karabiners are certified for use on their major axis with the gate locked. Foreseeable misuse is catered for on the other axis.
Loading a karabiner in the following ways can be dangerous and could lead to the failure of the karabiner due to a loss of strength of 70% or more:
Open gate
Minor axis
More than two directions
Over an edge
Cantilever
Overloading
Pressure and rubbing against the locking sleeve can not only open the gate but can also create a dangerous situation as the sleeve is the weakest part of a karabiner.
Considerations
Load direction (shape)

Device(s) it's being used with

Gate action

Activity

Ergonomics

Weight

Material

Semi-permanent

The Standard
Load direction.
D shaped – to position the load in the strongest direction.

Oval – symmetrical shape for even load distribution.

Pear – for high capacity / bulky items.

Wide opening – for attaching to anchors.

Multidirectional – for loading in more than two directions.
Karabiner Gate Action
Screw Lock
Pros
Cons
Can be opened with one hand
Vibration can lock the sleeve
Reliable in dirty / harsh conditions
Rubbing can unlock the sleeve
User manually locks the sleeve
User forgets to lock the sleeve
Tri lock
Pros
Cons
Rapid autolocking
Difficult sleeve operation
Secure triple action locking
Two hands needed to insert a device
Chance of something stopping the sleeve locking
Foreign objects can prevent locking
Double action
Pros
Cons
Ease of opening
Cantilever loading
Rapid autolocking
Pressure from structure can open gate
Two separate actions
Semi-permanent connection
Pros
Cons
Very secure
Tool required for connection / disconnection
Twist lock
Pros
Cons
Speed of opening
Two hands needed to insert a device
Rapid auto-locking
Chance of something stopping the sleeve locking
Ball lock
Pros
Cons
Rapid auto-locking
Two hands needed to insert a device
Visual locking indicator
Pin lock
Pros
Cons
Helps prevent inadvertent disconnection
Tool required for connection / disconnection
Secure triple action locking
As you can see, there is generally a compromise between security and ergonomics.
Some manufacturers give guidance on which karabiners to use with which device. They also produce accessories to ensure the correct orientation / position and to avoid cross-loading.
Certification
EN 362 Personal protective equipment against falls from a height. Connectors.

EN 12275 Mountaineering equipment.Connectors.

UIAA 121 Connectors.