Tractel HT9 Nappy Evacuation Rescue Harness
Tractel HT 9 Evacuation Harness
Nappy rescue harness for evacuation operations. Easy to fit, even with a person lying on the ground. 3 adjustment settings making it suitable for use for both children and adults.
Fast Delivery
Deliveries
Coronavirus latest: We are still open for business! Please click here for our full statement on our operations.

We pride ourselves on our excellent service and aim to despatch all orders promptly. If you order before 3pm Monday to Friday we will try to send it out that day, for next working day delivery. Orders:

placed after 3pm Monday to Thursday will be processed the next day
placed after 3pm on a Friday or at a weekend or on a Bank Holiday will be processed on the next working day
Orders to the Highlands, Islands and Out of Area may be a two-day delivery and overseas will be longer
Please call us for time-critical orders, so we can process the order as a matter of urgency and confirm the delivery schedule.

All goods are subject to availability. If we can't supply your goods within 30 days from the date of order, we will inform you immediately and let you know the expected delivery date.
Courier service
If you opt for a courier delivery, you will receive an email or text on the day we despatch your order, informing you that it is enroute. On the morning of delivery, at around 07:30, you will receive a further email or text giving you a 1-hour delivery time slot. Please therefore ensure that you have given us the correct mobile number and email address.
Couriers are extremely busy during Christmas and the sales, so please allow extra time.
We will not be held liable for any consequential loss caused by late or failed deliveries.
Timed deliveries / Saturday & Sunday deliveries
We can arrange timed deliveries for:
Weekdays:
pre-10:30am
pre-12 (midday)
Weekends:
Saturday pre-10:30am
Saturday pre-12 (midday)
Sunday (anytime)
Some of the timed delivery options are available via the website, for others including a Sunday delivery, please call the office for a confirmed price and to arrange the alternate delivery.
Important Note:
Timed deliveries are subject to stock availability (we will contact you if any of your order is not in stock, so you can confirm if you would like us to split the delivery) and must be placed by 3pm Monday to Friday. Please call us if it's after 3pm as we may still be able to catch our couriers.

Description
Tractel HT 9 Evacuation Harness
The Tractel rescue harness HT9 is designed to evacuate a user who may be conscious or unconscious. The rescue harness has been developed for rescue teams and to evacuate users not equipped with a fall arrest safety harness.
Key Features
The triangular rescue harness HT9 is equipped with:
Sternal rescue fastening points consisting of webbing loops.
The loops must be bound together by a connector EN362 to close the rescue harness and secure the person to be evacuated.
The triangular rescue harness HT 9 comes in One size only;
It provides three customisation size possibilities, easily identified by the colour of its loops.
Three Customisation Size Possibilities
Sternal Loops
Sub-Pelvic Loop
Small
2 black
1 red
min weight 30kg
Medium
2 red
1 red
Large
2 blue
1 blue
The adjustment elements of the triangular rescue harness HT9 are ensured by two automatic plastic loops by which the shoulder traps are adjusted. The triangular rescue harness HT9 is made using high strength synthetic fabric. The very-flexible fabric adjusts to the user's shape. The triangular rescue harness HT9 is a multiple-size system which can be used with adults of up to 150 kg and children weighing more than 30 kg. It is equipped with loops (suspension fastening point) made of blue, red and black webbing allowing the rescuer or user to quickly adjust the size of the harness for the user to be evacuated. The elastic shoulder straps are equipped with fast automatic plastic loops for easy installation.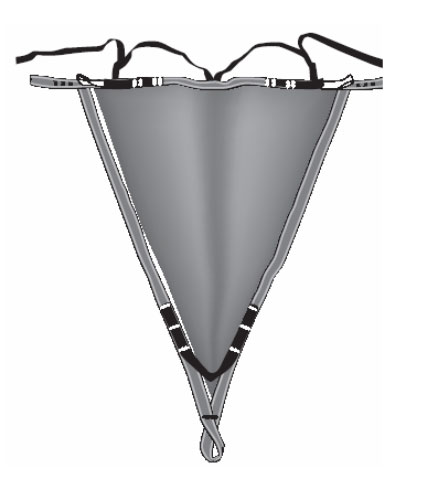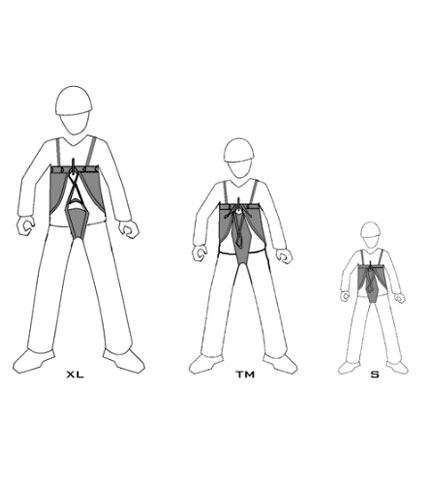 Manufacturer's Downloads
Specification
Harness
| | |
| --- | --- |
| Harness Type | |
| Harness Sector | |
General
| | |
| --- | --- |
| Industrial or Sport Use | |
| Conformity | |