Featured video
Latchways LadderLatch Fall Protection Device
Latchways TowerLatch Fall Protection Device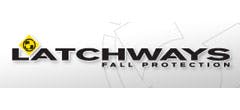 Latchways TowerLatch Fall Protection Device
The Latchways ManSafe TowerLatch for tower fall protection solutions have the inherent flexibility to be configured for use on virtually any design of power transmission tower. The TowerLatch is often specified within the transmission industry and is used on bespoke systems installed on electricity pylons.
Fast Delivery
Deliveries
Coronavirus latest: We are still open for business! Please click here for our full statement on our operations.

We pride ourselves on our excellent service and aim to despatch all orders promptly. If you order before 3pm Monday to Friday we will try to send it out that day, for next working day delivery. Orders:

placed after 3pm Monday to Thursday will be processed the next day
placed after 3pm on a Friday or at a weekend or on a Bank Holiday will be processed on the next working day
Orders to the Highlands, Islands and Out of Area may be a two-day delivery and overseas will be longer
Please call us for time-critical orders, so we can process the order as a matter of urgency and confirm the delivery schedule.

All goods are subject to availability. If we can't supply your goods within 30 days from the date of order, we will inform you immediately and let you know the expected delivery date.
Courier service
If you opt for a courier delivery, you will receive an email or text on the day we despatch your order, informing you that it is enroute. On the morning of delivery, at around 07:30, you will receive a further email or text giving you a 1-hour delivery time slot. Please therefore ensure that you have given us the correct mobile number and email address.
Couriers are extremely busy during Christmas and the sales, so please allow extra time.
We will not be held liable for any consequential loss caused by late or failed deliveries.
Timed deliveries / Saturday & Sunday deliveries
We can arrange timed deliveries for:
Weekdays:
pre-10:30am
pre-12 (midday)
Weekends:
Saturday pre-10:30am
Saturday pre-12 (midday)
Sunday (anytime)
Some of the timed delivery options are available via the website, for others including a Sunday delivery, please call the office for a confirmed price and to arrange the alternate delivery.
Important Note:
Timed deliveries are subject to stock availability (we will contact you if any of your order is not in stock, so you can confirm if you would like us to split the delivery) and must be placed by 3pm Monday to Friday. Please call us if it's after 3pm as we may still be able to catch our couriers.

Description
Latchways TowerLatch Fall Protection Device
A key element of the system is the TowerLatch unit with its unique Latchways starwheel component. This provides workers with the security of being constantly attached to the system while also having both hands free to go about their duties. If a worker should fall from the system, the TowerLatch immediately locks onto the system cable and arrests the fall.
Key Features
Follows the contours of the tower structure.
Can be installed on all types of steel lattice structures, towers, masts and monopoles.
Suitable for retrofitting or as part of a new build.
The system is unobtrusive and lightweight.
Operation is not affected by snow, ice or adverse weather conditions.
Can be installed for use in virtually all environments.
Can be integrated into a comprehensive system incorporating inclined and horizontal sections.
Will support up to four workers on a single line.
The TowerLatch starwheel unit rotates freely through the intermediate cable guides to give the user continuous hands-free protection.
In the event of a fall, the TowerLatch unit locks onto the cable and arrests the fall.
The load generated in a fall is absorbed by the system's top anchor bracket. This has a built in safety factor of 2.4 x the potential load.
A unique patented Latchways energy absorber built into the system ensures that the maximum load on the worker and end anchor in the event of a fall is minimised to 6 kN.
If a fall occurs from the system, a fluorescent red shaft extends from the energy absorber. This shaft is visible from ground level and by helicopter inspection.
The TowerLatch unit can be attached or detached at any point in the system.
ManSafe for Towers is easy to install and maintain.
Comprehensive range of specialist components to enable installation on a wide variety of towers.
Meets all appropriate international standards.
Inspection Requirements for Latchway Devices
Periodic examination of Latchways GTFA devices, in accordance with EN 365, shall be carried out at least annually from the date of first use, or the date of manufacture if the date of first use cannot be proven through auditable traceability.
Latchways GTFA devices can be recertified annually by a competent person in accordance with Latchways' published instructions (please find attached our latest revision). Competent person examinations enable the product to be inspected using visual, tactile and non-specialist tools. If the device fails a competent persons examination it should be passed to a trained Technician or returned to Latchways for further examination and repair. A competent person cannot disassemble or repair assemblies.
Manufacturer's Downloads
Specification
Backup Device
| | |
| --- | --- |
| Rope or Wire Usage | Wire - Guided Type Fall Arrester |
| with or without energy absorber | |
General
| | |
| --- | --- |
| Industrial or Sport Use | |