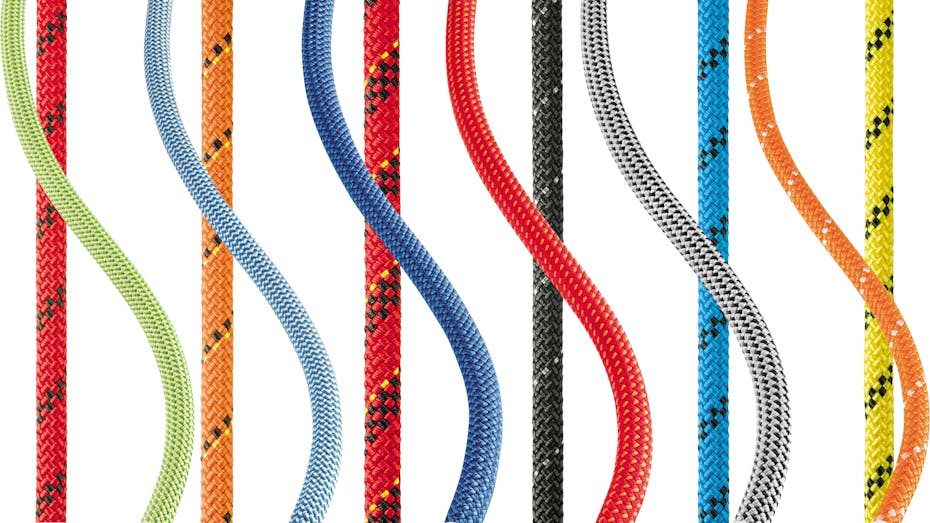 A buying guide for Ropes
What type of rope should I choose?
The type of rope you will need will depend on what you are using it for! This article will hopefully give you enough information for you to make the correct choice!
There are two main types of rope used in industrial rope access, abseiling and climbing: low stretch (sometimes called semi-static or static) and dynamic. The main difference is that low stretch, as the term suggests, doesn't stretch much when loaded (a maximum of 5% to meet the EN 1891 standard), whilst dynamic is designed to stretch and absorb a shock-load, such as when a climber falls. Thus a low stretch rope is ideal for abseiling (because you don't want to feel like you are on a bungee when you are abseiling) and a dynamic rope for climbing.
Low Stretch Ropes in more detail
Kernmantel
All Low Stretch ropes are Kernmantel. This means the rope is made up of a core (kern) and a sheaf (mantel). The core is the primary load bearing part of the rope, with the sheaf providing protection from abrasion and cuts. Smaller cores tend to produce a rounder more supple rope but as a compromise are generally less strong.
Low stretch ropes used in Europe must conform to the EN 1891 (Personal protective equipment for the prevention of falls from a height. Low stretch kernmantel ropes) standard. of which there are two types, A and B.
Type A & Type B
Type A ropes are better suited to rope access and work positioning. They do provide some stretch, and therefore absorb some energy, but not as much as Dynamic rope.
Most EN 1891 ropes are now Type A but some specialist ropes are Type B. Type B ropes tend to have a lower performance than Type A ropes and could be more susceptible to abrasion, cuts and wear and provide a lower breaking strength.
Cover construction
Generally speaking, the higher the number of plaits, the thicker / stronger the core. Most low stretch rope is 16 plaits made by a machine with 32 carriers / bobbins.
Common Cover and Core materials
Polyester is very durable and has good resistance to chemicals. It is also hydrophobic, which means it's quick drying and doesn't shrink as much as Polyamide.
Polyamide (Nylon) is hygroscopic, which means it tends to absorb moisture. This can cause the rope to shrink and become stiffer.
Common diameters
10.5mm
11.0mm
Sewn termination
Knots and sewn terminations weaken the rope but there is no avoiding this. However, sewn terminations weaken the rope to a lesser degree.
Dynamic Mountaineering ropes
EN 892 - Mountaineering equipment. Dynamic mountaineering ropes.
There are four types of Dynamic rope:
Single – used in Sport, Trad and top-rope climbing on straight pitches with no abseil descent.
Half – used in double rope technique in Trad climbing, ice climbing, mountaineering and long wandering routes where abseil descents are required. Clipped into separate pieces of gear.
Twin – Now virtually replaced by the new low weight half ropes. Clipped into the same pieces of gear. Used in Trad climbing on non-wandering routes, mountaineering and ice climbing.
Mountain walking / Tour – Not suitable for climbing
Specialist ropes
These ropes have special characteristics for specialist activities:
Floating ropes
Rescue ropes
Ropes resistant to high temperatures
Rope resistant to chemicals
Lightweight ropes
Ropes for tree work (for Arborists)
Ropes for firefighters
Intervention
Be aware
The thickness of the sheaf plays an important role when it comes to durability and suppleness. However, it also effects the weight of the rope.
Ropes swell with use and can shrink in length by up to 15%. Take this in to account when ordering the length.