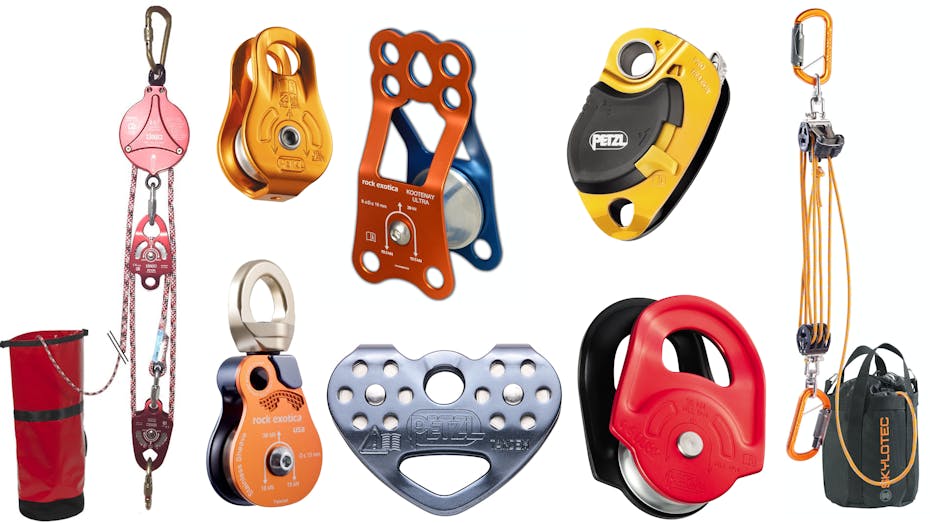 A buying guide for Pulleys
There are two important factors that determine the efficiency of a pulley:
Sheave diameter

The larger the sheave diameter, the higher the efficiency

Bearings / Bushings

Sealed ball bearings are very efficient and do not require maintenance
Bushings are normally self-lubricating but do require regular maintenance
Other considerations relate to use:
High-efficiency

Versatile and manufactured for intensive use.

Progress capture

Integrated progress capture function replaces the traditional pulley / rope clamp configuration

Prusik minding

Designed for use with a prusik friction hitch (to build a progress capture system). The shape of the side plate prevents the prusik knot from jamming the pulley.

Single

Lightweight pulleys where efficiency is not an important factor i.e. redirects

Transport

Two aligned sheaves designed for movement along a rope or cable.

Pulley karabiners

These enable the rope to be installed when the pulley karabiner is connected to an anchor / device and can be used as a directional point.

Specialist

Designed for a particular application i.e. passing knots or use on a lift cable.

Haul kits

Pre-rigged pulley systems used for pick-off rescues, making a releasable anchor or for use in a tensioning system.
Certification
EN 12278 Mountaineering equipment. Pulleys

EAC

NFPA 1983 Technical Use

UIAA 127 Pulleys