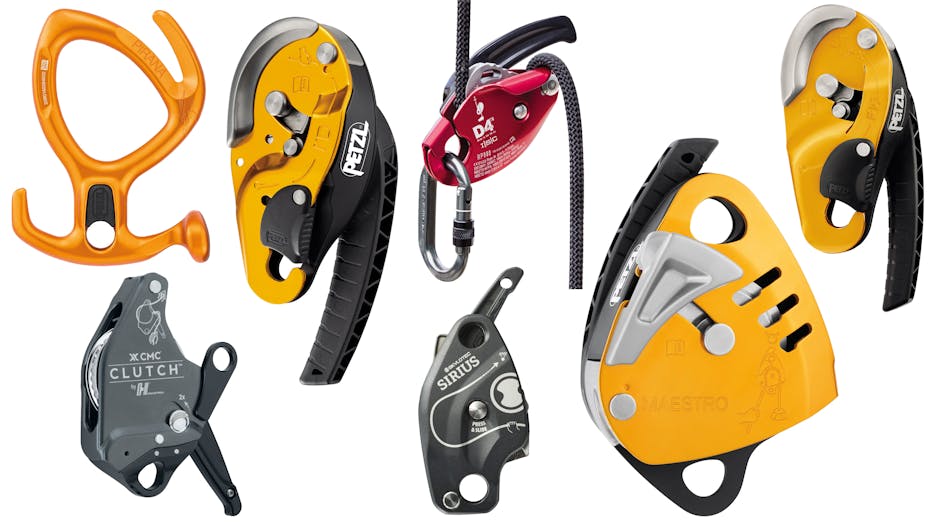 A buying guide for Descenders
There are a variety of devices in this category, with different functionality. However, their purpose is to enable a controlled descent from a high place to a lower place.
There are two categories of descender:
Automatic (Type 1) – Controlled Rate Descenders
Manually operated (Type 2)
Anti-panic
Anti-panic is a term used to describe the function when the handle is pulled too hard in descent and engages the cam, thus stopping the descent.
Auto-locking
As the name suggests, the auto-locking function automatically locks the device when the handle is released. This removes the need to manually lock the handle or to 'soft-lock' using a mule hitch.
Self-braking
Operated by a handle, with or without an anti-panic function. For example, Petzl I'D, Camp Druid, Heightec Prism
Assisted-breaking
Standard
Mechanical prusiks
Personal escape systems
Skylotec Milan, Cresto Smartline X, Petzl EXO
Certification
EN 341 - Personal fall protection equipment. Descender devices for rescue.
There are also four classes which fall under EN 341; Class A, B, C and D. These classes categorise the amount of energy the device is capable of withstanding. A Class D device is certified for a single descent.

EN 341 is outside the scope of CE.

EN 12841 - Personal fall protection equipment. Rope access systems. Rope adjustment devices. Type C refers to descenders.

EN 15151-1 - Mountaineering equipment. Braking devices. Braking devices with manually assisted locking, safety requirements and test methods.