Featured video
Petzl Absorbica - Fall arrest lanyards
Petzl Double Absorbica Y Elasticated Lanyard 150cm
Petzl Double Absorbica Y Elasticated Lanyard 150cm
Twin / Double Y-shaped elasticated lanyard with energy absorber. Designed for movement on high construction sites or metal structures, allowing movement while remaining connected.
Fast Delivery
Deliveries
Coronavirus latest (dated 01 November): We are still open for business! Please click here for our full statement on our operations.

We pride ourselves on our excellent service and aim to despatch all orders promptly. If you order before 3pm Monday to Friday we will try to send it out that day, for next working day delivery. Orders:

placed after 3pm Monday to Thursday will be processed the next day
placed after 3pm on a Friday or at a weekend or on a Bank Holiday will be processed on the next working day
Orders to the Highlands, Islands and Out of Area may be a two-day delivery and overseas will be longer
Please call us for time-critical orders, so we can process the order as a matter of urgency and confirm the delivery schedule.

All goods are subject to availability. If we can't supply your goods within 30 days from the date of order, we will inform you immediately and let you know the expected delivery date.
Courier service
If you opt for a courier delivery, you will receive an email or text on the day we despatch your order, informing you that it is enroute. On the morning of delivery, at around 07:30, you will receive a further email or text giving you a 1-hour delivery time slot. Please therefore ensure that you have given us the correct mobile number and email address.
Couriers are extremely busy during Christmas and the sales, so please allow extra time.
We will not be held liable for any consequential loss caused by late or failed deliveries.
Timed deliveries / Saturday & Sunday deliveries
We can arrange timed deliveries for:
Please note - Couriers are extremely busy during Black Friday and the Christmas period, so please allow extra time.
We will not be held liable for any consequential loss caused by late or failed deliveries.
Weekdays:
pre-10:30am
pre-12 (midday)
Weekends:
Saturday pre-10:30am
Saturday pre-12 (midday)
Sunday (anytime)
Some of the timed delivery options are available via the website, for others including a Sunday delivery, please call the office for a confirmed price and to arrange the alternate delivery.
Important Note:
Timed deliveries are subject to stock availability (we will contact you if any of your order is not in stock, so you can confirm if you would like us to split the delivery) and must be placed by 3pm Monday to Friday. Please call us if it's after 3pm as we may still be able to catch our couriers.

Description
Petzl Double Absorbica Y Elasticated Lanyard 150cm
Designed to offer continuous protection when passing intermediate anchors or progressing around or up / down a structure by successively detaching and re-attaching the two arms, this Petzl Absorbica-Y lanyard is equipped with elasticated arms which keep the set up as compact as possible and avoids the issue of excess tape or rope getting in the way when working or moving.
The energy of any fall is absorbed by the tearing of Absorbica shockpack energy absorber, which is suitable for users weighing between 50 and 130kg. Progressive tearing reduces the deceleration on lightweight users. This 'naked' lanyard gives the user the opportunity to retrofit a range of connectors onto each end of the lanyard. The Absorbica (shockpack) end comes complete with a 'String' (rubber keeper) which should be fitted to the connector of your choice to help reduce the risk of improper loading of the connector (it stops the connector from rotating).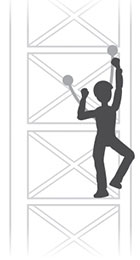 FAQ's
How much does the lanyard stretch?
Approx. 50cm
What is the length of the lanyard unstretched / stretched (lanyard and Absorbica shock pack)
Approx. 90cm / 140cm
What connectors do you recommend to use with this lanyard?
If you are regularly taking the lanyard on / off your harness then we would recommend using a Petzl Am'D double or triple action karabiner or similar. The double and triple action karabiner lock automatically once the karabiner gate is released. These should be used with the 'String' to ensure the karabiner loading is end to end. For a more semi-permanent attachment, we would recommed a Petzl Ring Open or Swivel Open.
How do you fit retrofit scaffold hooks to the lanyards?
Use either the new Petzl MGO Open Double Action Scaffold Hooks or any of our scaffold hooks connected using an 8mm Standard Shape Maillon
What is the maximum clearance distance required?
This depends on a number of factors including, but not limited to, the weight of the user and the fall distance. Petzl provide a very good guide which can be found by clicking here.
Manufacturer's Downloads
Specification
Lanyard
| | |
| --- | --- |
| Lanyard Type | |
| Energy Absorbing | |
| End Termination | Sewn Loop with String (Rubber Karabiner Retainer) on both ends |
| Working Load Limit (kg) | |
General
Industrial or Sport Use

Material

Nylon

,

Polyester

,

Polyethelene

,

Rubber

,

Conformity

Weight (g)
Related video
Petzl Absorbica - Fall arrest lanyards